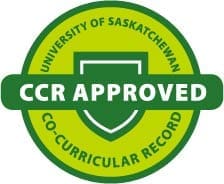 Co-Curricular Record
For activities to be recognized on the Co-Curricular Record, it must:
have a clear connection to the university with a recognized faculty or staff member to validate participation;
have validation requirements (for example: criteria students must complete in order to have their position validated);
be grounded in the intentional learning outcomes of the U of S Learning Charter Core Learning Goals:

 

discovery, knowledge, integrity, skills, and citizenship;
provide an opportunity for students to be actively engaged (positions or activities in which a student holds a title, but has no duties, will not qualify for validation)
All activities on the CCR will be organized in the following five categories:
Athletics
Formalized university sanctioned Huskie athletic team positions.
Community Service – Learning
Activities organized and facilitated by the university or a student organization.  These activities are outside of academic coursework and are not recognized on the academic transcript.
Example: service opportunities organized as part of a college club, not service learning as part of a course.
Professional Development
Activities that foster professional growth in students that are not organized as part of course requirements.
Example: CPR training sponsored by a student society, but not CPR training undertaken as a private individual.
Student Government
Student leadership opportunities such as University of Saskatchewan Student Union (non-executive positions) or the Graduate Student Association Executive.
Student Life
Activities that foster student engagement in the campus community such as clubs and events.  These events are organized and facilitated by the university or student organizations.
Examples: USSU volunteer opportunities, KinLife, Peer Mentor opportunities, and programs such as Building Bridges.
For more information on CCRs